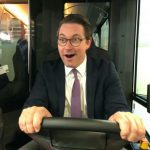 2020-07-20 Toronto/New York. Um es vorab gleich mal klarzustellen: Da sich die sog. "EU" stets als eine Art  Wurmfortsatz nordamerikanischer Besitz- und Machtverhältnisse erwies, dürften profund vergleichende  Einschätzungen bezüglich gesellschaftlicher Verhältnisse und daraus mannigfaltig resultierender Entwicklungen durchaus von so einiger Relevanz sein. Man hat es bei uns finden und lesen können. Vor ziemlich genau einem Jahr. Und zwar in Bezug auf das erwartbare Potential der Bereitschaft, sich in einem Fahrzeug mit Fremden quasi gemeinsam auf eine umweggespickte, urbane Reise von A nach B zu begeben, deren Verlauf man programmierten Algorithmen überläßt, denen zu folgen man bereit ist. Wobei gleichzeitig der Nutzer eines solchen Dienstes seine Anonymität – auf die er ein unbedingtes Recht hat – preisgeben muß. Schlimmer noch wiegt, daß er dabei Konzernen und/eben Datenstaubsaugern erlauben soll, soviele Eckdaten über seine Einkommensverhältnisse, Bewegungen, mögliche Kontakte usw. – eben das, was "Big Data" aus der Privatheit abzuschnorcheln bedeutet – preisgeben soll. Noch gibt es vielleicht genug Menschen, die sich dessen bewußt sind und deshalb sind die Aussichten für derartige Unterfangen eher dürftig bzw. unplausibel. "Nackichmachen" ist im Transportsektor (noch) unwirtschaftlich.  Noch gibt es Transportdienste, die florieren können, wenn anonyme Fahrgäste anonyme Zahlungsmethoden benutzen. Dies jedoch ist sicher einer der Hauptgründe für den Zerstörungswillen der Polit-Clowns der nicht verfassungsgemäßen "Findungskommission" gegenüber dem traditionellen Taxigewerbe. In ihren totalitären Phantasmagorien hat Individualität keinen Platz mehr. Wer sich also fragt, warum ausgerechnet das Taxigewerbe so scheinbar irrational angegriffen wird, alle Kontrollen der angeblichen Konkurrenz  scheinbar versagen, eine Wirtschaftlichkeit der Popanze scheinbar keine Rolle mehr spielt, könnte ja in dieser Richtung eine plausiblere Erklärung finden. Wir sähen es gern, wenn die ganzen Streiter im Gewerbe das mal bedenken würden. Heute, zur Erinnerung, wie der Stand der Dinge vor einem Jahr war, stellen wir mal zwei kleine Übersetzungen ein, um klarzustellen, wie leidlich angesagt das "Pooling" eigentlich ist. Und es ist seitdem nicht besser geworden. CleverShuttle, Berlkönig, Moia, Kapten, Bolt – Verblutungstheater, Wirtschaftskriegsmethodik, Schattenboxen. The Transportation Impacts of Vehicle-for-Hire in the City of Toronto (S 12):
"Ein Viertel der PTC-Reisen insgesamt nutzen Mitfahrdienste
Shared Ride Services, wie Lyft Line und Uber Pool, sind einzigartige Angebote, die einen Teil des gesamten PTC-Reisemarktes ausmachen. Diese Dienste funktionieren, indem sie Fahrgäste mit anderen Fahrgästen auf ähnlichen Strecken zusammenbringen. Gemeinsame Fahrtanforderungen sind von etwa 6.900 Fahrten/Tag im September 2016 auf 28.400 im September 2018 angestiegen und machen nun 26% aller PTC-Fahrten aus. Außerhalb des Kernbereichs, insbesondere in großen Teilen von Etobicoke und North York, bestellen die Nutzer viel häufiger (bis zu 45 % aller Fahrten) gemeinsame Fahrdienste. Während Shared-Trip-Dienste bei den PTC-Nutzern immer beliebter werden, werden 82% dieser Fahrten durchgeführt, ohne dass Mitfahrer mit zusätzlichen Fahrgästen zusammenkommen. Im September 2018 machten nur 5.200 der insgesamt 28.400 täglichen Fahrten mit Mitfahrgelegenheiten mehr als eine eindeutige Abholung."
Bruce Schaller hatte in seinen "beliebtesten Fakten" ebenfalls festgestellt. "
"Beim "Pooling" teilen sich Fremde gemeinsam ein "Ride"-Fahrzeug und werden an verschiedenen Punkten der Strecke abgeholt und abgesetzt. Uber und Lyft haben sich stark dafür eingesetzt, ihre Kunden zum Pooling zu bewegen und die Quote stieg von Low-Teens Anfang 2017 auf etwa 25 Prozent Anfang 2018. Aber die Pooling-Raten haben sich seitdem im Wesentlichen eingependelt. Es scheint, dass die meisten Kunden die Privatsphäre und die Kontrolle über das Auto und den Fahrer für sich selbst bevorzugen.
Zu diesen Zahlen gehören die Via, bei der die meisten Fahrten geteilt werden, sowie die wesentlich größeren Fahrtenmengen von Uber und Lyft. Umfasst alle fünf Stadtbezirke von New York City, monatliche Daten.
Ähnliche Zusammenlegungsraten sind in anderen großen Metro-Bereichen zu beobachten:
22% in städtischen Gebieten Kaliforniens zusammengelegt (Umfrage 2018)
20% im Raum Boston gebündelt (Umfrage 2017)"
Daß die Polit-Clowns ihre absurden Greenwashingziele mittels zusätzlicher Plünderung der steuerlichen Subvention des ÖPNV zugunsten der erwähnten Konzerne, die unbedingt ihren stinkenden Fuß in die "Staatstür" stellen wollen, durchsetzen wollen, sollte nicht länger infrage stehen. Was macht eigentlich ein "Bundesverband" dagegen, wenn er sich dessen bewußt sein sollte? Was macht Ihr eigentlich, Taxifahrer?